Are you considering making your own homemade keto mayo?
You should! There's a few things you should know first...
The first time I made mayo, it was a soupy disaster because I was impatient and just dumped all the oil in.
Don't get me wrong...
This is an incredibly easy skill to master. All it requires is a little knowledge and patience.
I tried using a variety of mixing tools and settled on my hand mixer because for me, it's the easiest.
Here's what you need to know...
Follow the recipe and add the oil very, very slowly.
Check out the video for a demonstration of just how slowly.
If you add the oil too fast you "break" the mayo. You'll know it's broken if you've got a soupy mess on your hands!!
---
---
Macros for Keto Mayo
99% Fat ~ 0% Net Carb ~ 1% Protein
---
Homemade Keto Mayo
Making your own keto mayo is as simple as learning a few basic mayo making skills!
Watch the video for a tutorial and make sure to check the blog post if you accidentally break the mayo!
Print
Pin
Rate
Instructions
Separate your eggs into your tall mixing bowl and discard the egg whites.

Beat the egg yolks until foamy.

This is where things can get a bit tricky. With your blender running, very slowly drizzle in your avocado oil. Proceed with the utmost amount of caution. Do NOT be brave and dump it all on!! Continue beating while adding the oil at a slow drizzle.
Notes
Note: The nutrition facts are for one FULL recipe so that you can divide it out based on the number of servings you ended up with.
Nutrition
Calories:
4030
kcal
|
Carbohydrates:
1
g
|
Protein:
8
g
|
Fat:
450
g
|
Saturated Fat:
55
g
|
Cholesterol:
585
mg
|
Sodium:
1189
mg
|
Potassium:
58
mg
|
Sugar:
0
g
|
Vitamin A:
780
IU
|
Calcium:
70
mg
|
Iron:
1.5
mg
---
---
Fixing "Broken" Keto Mayo
---
What if you have broken mayo?
You can fix it!
Start over with a new batch of mayo and don't break it this time.
If you're like me, this may take a few batches. Plenty to share with friends!!
When you master making your Keto Mayo, slowly pour in the broken mayo that's been sitting there breaking your heart.
The broken mayo will whip right into your successful batch.
Now, what to do with all this keto mayo??
---
---
What Substitutions Will Work?
---
Keto Sweetener Substitutions
If you haven't already tried Bocha Sweet, I highly recommend you do.
It's a superfood alternative sweetener made from a Japanese pumpkin called the Kabocha pumpkin.
Order it direct through me right here: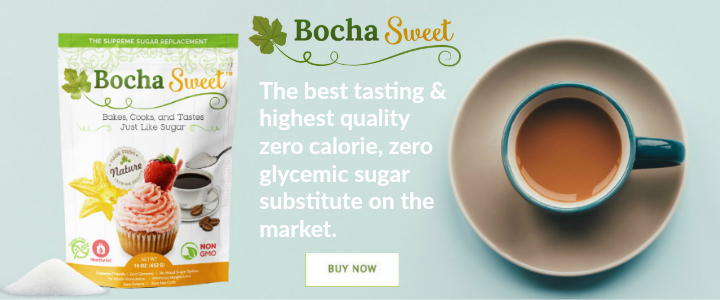 Most alternative sweeteners will work in this recipe. You can use Monk Fruit Sweetener, Xylitol or a blend like Swerve.
Liquid Stevia would work here as well. I would use only two drops in this Keto Mayo recipe as the sweetener really just rounds out the flavor.
What is your favorite Keto Sweetener? Comment below and let me know!
---
Get The Ingredients Used In Homemade Keto Mayo!
---
Note that the links in this blog are affiliate links when possible. An "affiliate link" is a way for me to earn money to help support my business. Affiliate links cost you nothing extra. They work like this: You choose to click on an affiliate link on my website and make a purchase. Depending on my relationship with that company you just purchased from–I earn either a small percentage or a fixed amount for "referring" you to the company.
I only refer you to products and brands that I have used in the past or are currently using and that I like the quality of. In some cases, products are discontinued and I find a substitution. This is usually only for kitchen gadgets but sometimes companies stop making ingredients too!
Thank you for considering using my affiliate links and helping me out 🙂
---
---
Did you enjoy this recipe? If so, please rate it by clicking on the star in the recipe card.
Then Share It! 
Use the buttons on the left to Pin this recipe to Pinterest, Email it to a friend or share on social media.
Check out my YouTube channel "Tara's Keto Kitchen"! I share new videos and recipes every week. Subscribe so you're notified by YouTube when the recipes post.
---
How To Make Homemade Keto Mayo
---
Beat the egg yolks.
Add in white wine vinegar and salt.
Now it's time to add the oil and this is where things can get dicey! You want to add the oil in VERY slowly.
I get you– patience isn't my strong point either. The first time I made this it was a disaster. Don't be like me!!
With your mixer on medium speed, drizzle in the avocado oil a few drops at a time. (See video)
Once all the oil is added and you have a nice creamy mayo– finish it off with your optional ingredients of  dry mustard, Young Living Lemon Vitality Essential Oil & your Bocha Sweet or other sweetener to taste.
---
Other Recipes You May Enjoy
Tara is a Certified Holistic Health Coach who specializes in whole body health & wellness through holistic principles. Her passion is creating low-carb, grain-free, keto-friendly recipes and helping others learn the whole-body benefits of a ketogenic lifestyle.
When she isn't creating recipes in the kitchen, you can find her hanging with her kids, immersed in a good book, traveling with her husband, attending various educational conferences or just relaxing with her four cats!